Dedicated IP VPN Account with Free Trial
From: £9.99 / month with a 7-day free trial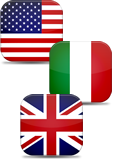 Multi user VPN access on our United Kingdom, United States and Italian based Dedicated IP servers. These are our premium accounts offering users a totally unique personal IP address. You don't just get a Static IP Address with these Dedicated IP accounts, each account has its very own Unique IP Address too! These will never change and they will never be used by any other user whilst the IP is assigned to your account, its your very own Personal IP Address!
As an added bonus you also gain unlimited access to the entire Shared IP platform with all Dedicated IP accounts, which means you can also connect to any of our Shared IP servers, which are located in over 30 prime locations from around the world.

Totally unique, static IP address.

Your very own Personal IP.

Permit up to 5 simultaneous users on one account*.

Increase online security by restricting access to your unique IP.

Gain an unparalleled layer of security with your own unique IP.

Access your unique IP from any worldwide location.

Prevent people tracking you by your IP address.

Encrypt your connection between you and the internet.

Additional unlimited access to the entire Shared IP platform for free.
Each Dedicated IP account is configured as standard with 2 simultaneous connections or users. If you would like to add more connections please select the total number from the selection below.