Setting up your VPN access on DD-WRT compatible routers.
OpenVPN Setup (Pre-Configured Command)
We recommend this setup on all DD-WRT routers. The pre-configured connection settings with this connection type makes the configuration of the OpenVPN connection very easy. If you have any problems with this setup you should try the OpenVPN Client setup connection. Please ensure your router firmware is up to date and has OpenVPN Client installed from Services > VPN.
OpenVPN Setup (OpenVPN Client)
If you have any problems with the OpenVPN Pre-Configured Command setup please try this connection type. OpenVPN Client setup will create a VPNUK connection from any router that has VPN compatible DD-WRT firmware installed. Please ensure your router firmware is up to date and has OpenVPN Client installed from Services > VPN.
PPTP Setup
You should only use this setup if your DD-WRT router does not have the option to connect to the VPNUK servers over OpenVPN.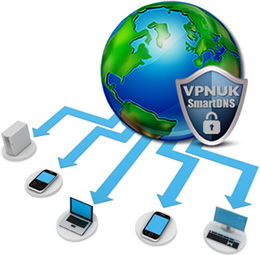 SmartDNS Setup Tutorial
The VPNUK Smart DNS service is a brilliant way to access certain web sites and services including streaming media and social networking services. The VPNUK Smart DNS services works on virtually every kind of system or device, this includes Smart TV's and Games Consoles! You can now bypass the need to log in or even create a VPN connection. In order to connect to the VPNUK Smart DNS service you only have to to make one small edit to the connection settings of the system or device you would like to connect.
What are the benefits of the VPNUK Smart DNS service
Using VPNUK Smart DNS and its ever expanding whitelist of available services is a brilliant way of maintaining a low ping time and high speed in countries that have poor routing, throttle or even filter VPN connections. If you do not require the additional security of a VPN connection you are now able to connect to your VPNUK account through the VPNUK Smart DNS service. Another massive benefit with our Smart DNS service is that you can access content from multiple countries without having to switch server IP, the Smart DNS service does all of that for you in the background without you even realising!
IMPORTANT NOTICE:
Setting up DD-WRT on a compatible router is not for novice users, this setup does require a certain amount of experience and knowledge of how internal networks operate. It is not possible forVPNUK to assist in the flashing of routers or the installation of DD-WRT firmware. It is also not possible for VPNUK to assist in the setup of the VPNUK service, nor can we be held responsible for damage caused by clients configuring uncompatible routers or flashing incorrect firmware. If you choose to setup your VPNUK connection over DD-WRT we have very limited support available. Please only install official
DD-WRT
firmware from the
DD-WRT
website onto compatible routers. Before you attempt to configure your router please setup an OpenVPN connection on your computer to ensure the account is working.If you do choose to configure your connection through DD-WRT, please note, that it is still largely unsupported and can be problematic. If you have any problems we only offer basic troubleshooting assistance through our ticketing system, we also have a troubleshooter at the bottom of this page. You should be prepared to lose internet connectivity and be ready and know how to return the router to it's default settings.