Setting up VPN access on a Windows 10 Mobile Device
Setting up your VPN over L2TP
Setting up L2TP vpn access on a Windows Mobile device is very straight forward. The following instructions will take you step by step in setting up your account. At the current time Windows Phone running 'Windows 10 Mobile' operating system is the only version that supports connections made through L2TP. If your Windows Phone is running Windows 8.1 Mobile please follow the IKEv2 setup tutorial for that device.
1. Setting up the VPN connection
From the home screen go to the main menu and select 'Settings'.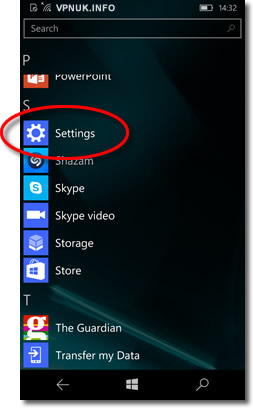 2. Settings Menu
Scroll down the settings list and select 'Network & Wireless'.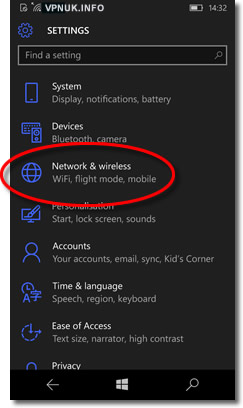 3. Network and Wireless Options
Goto the bottom of the list of option and seclect 'VPN'.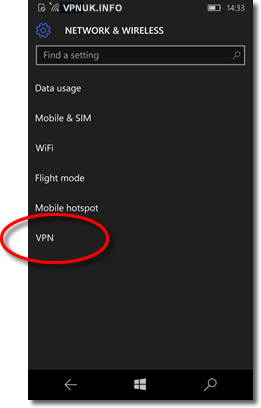 4. Add a VPN connection
Click onto the plus '+' symbol to create a new VPN account.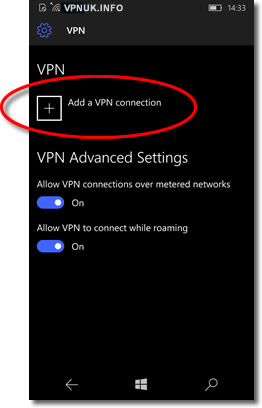 6. Connection name
Enter any name for the connection.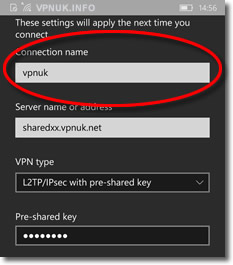 7. Server name
Enter any server name or IP address, clients on our Shared IP platform can connect to any of our Shared IP servers. Clients on the Dedicated IP platform should enter the server their unique IP address corresponds to. You can find server addresses in your 'Welcome to VPNUK' email or in the 'Client CP' on the VPNUK website.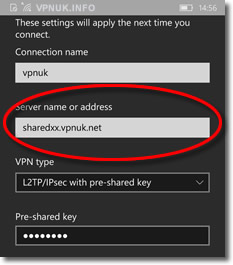 8. VPN type
Choose 'L2TP/IPsec with Pre-shared key' from the choice of VPN connection types.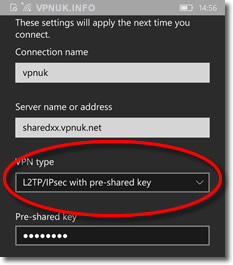 8. Pre-shared key
Enter the VPNUK Pre-shared key '6 9 0 0 0 9 0 3'.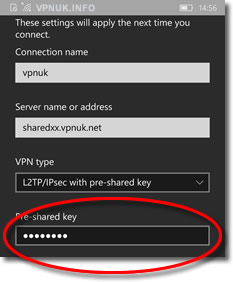 9. Type of sign-in info
Choose 'Username and password' as the Type of sign-in info.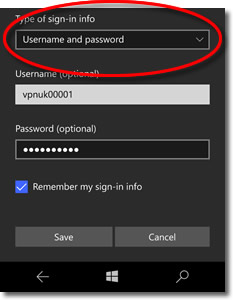 10. Login username
Enter the username that was sent to you in the 'Welcome to VPNUK' email.
11. Login password
Enter the password that was sent to you in the 'Welcome to VPNUK' email.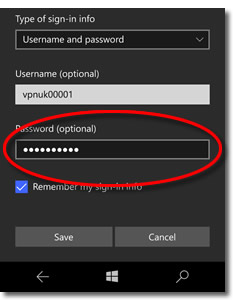 12. Remember info (Optional)
You can choose the phone to save the login username and password. This will save entering the details during future login procedures.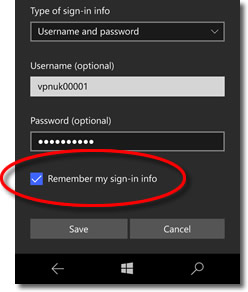 13. Save your connection details
You can now save the connection by clicking onto the 'Save' button.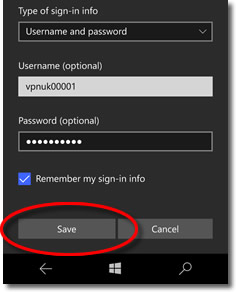 14. Connecting to the VPN
Click onto the profile name you would like to connect to and then click onto the 'Connect' button.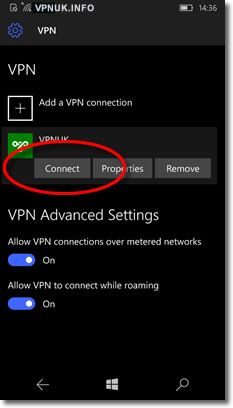 15. VPN Connected
Once connected the VPN profile will display a 'Connected' state.