Setting up the VPNUK Assistant v9 on Windows Vista.
The following tutorial will guide you through the installation and configuration of the VPNUK Connection Assistant v9 on Windows Vista machines.
1. Download the Connection Assistant Software
CLICK HERE to download the latest release of our Connection Assistant software application. If you have any problems downloading or installing files from our server please contact our Live Help team, we are always available to help. Alternative download mirrors are available on our downloads page here.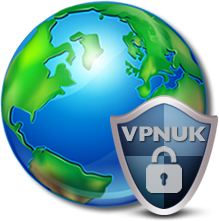 2. Run the Installer
Initiate the installation and click onto the 'Next' button.
3. License Agreement
Click onto the 'I Agree' button.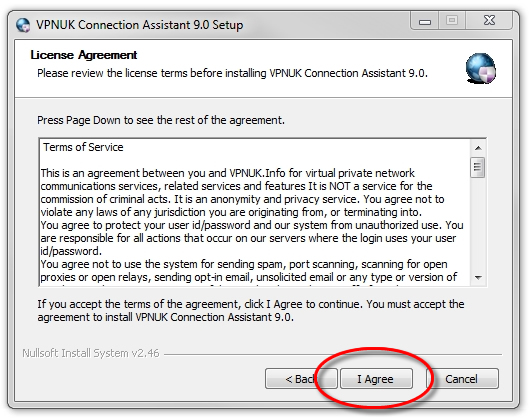 4. Installation Complete
Once the installation is complete click onto the 'Finish' button.
5. Open Software
Click onto the VPNUK Connection Assistant desktop shortcut or Start menu program in order to open the the software.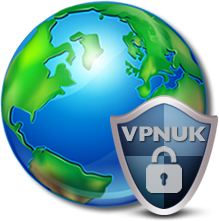 6. Type of Account
Choose the type of account you have with VPNUK.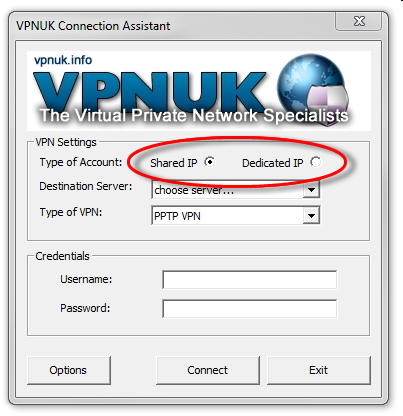 7. Destination Server
Select the 'Destination Server' you would like to connect to. If you use the Dedicated IP service, select the corresponding server to where your unique IP is located.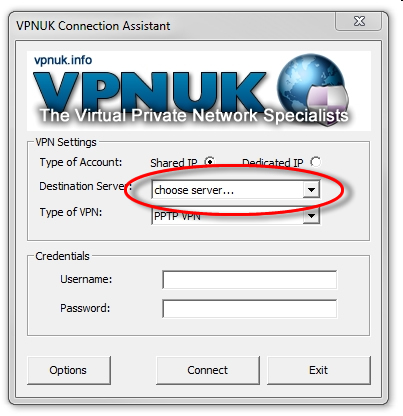 8. Type of VPN
Select the 'Type of VPN' connection you would like to use, you have the choice of PPTP and L2TP.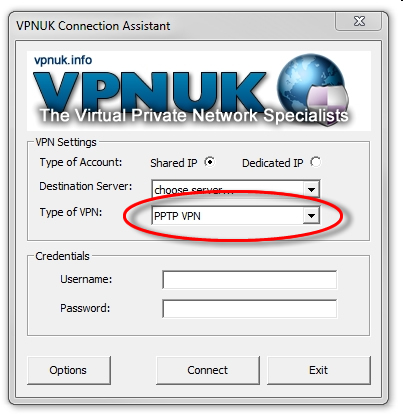 9. Login Username
Enter your login username into the 'Username' input.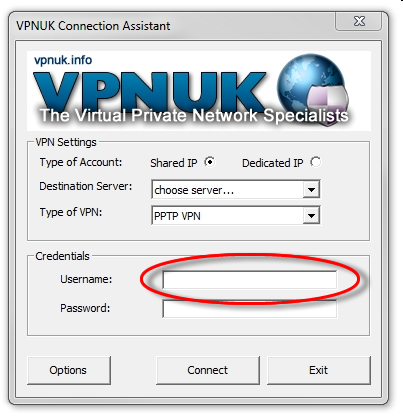 10. Login Password
Enter your login password into the 'Password' input.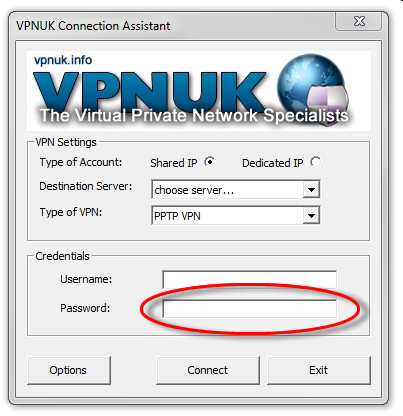 11. Connection Ready – Connect
Click onto the 'Connect' button to connect to the VPNUK service.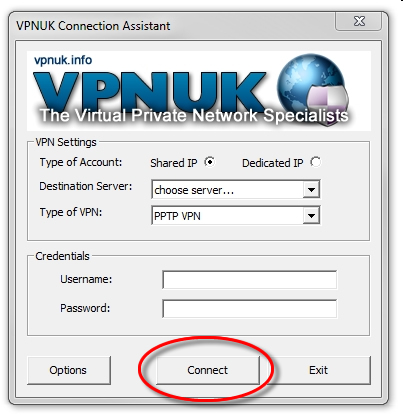 Screencast Tutorial
Troubleshooting Guide
Your VPNUK account should work first time, everytime. If you ever experience any problems with your VPN connection the first thing we urge you to do is contact us on our Live Help service, we can offer instant assistance with all connection issues and get you back online. The following is a basic troubleshooter for the more common issues that can arise from our VPN service.
ISP DNS Hijack / DNS Leak Protection
Some ISPs will attempt to hijack your DNS settings which hinders the VPN connection from functioning correctly. If you find that your VPNUK connection does not route your traffic correctly you can try changing your Public DNS server to the VPNUK DNS server or to an alternative like Google DNS.
1. Right click onto your network connection icon in the sys tray and select 'Open Network and Sharing Centre'.
2. Go to Change Adapter Settings' from the left hand menu.
3. Right click onto your active Ethernet or Wireless Connection
and select 'Properties'.
4. Double click onto 'TCP/IPv4' from the list of items.
5. Enter a DNS IP into the DNS server box. Google DNS is 8.8.8.8. VPNUK Public DNS is: 109.169.6.2