What is VPNUK SMART DNS.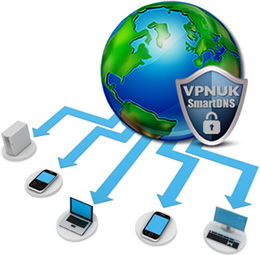 The VPNUK Smart DNS service is a brilliant way to access certain web sites and services including streaming media and social networking services. The VPNUK Smart DNS services works on virtually every kind of system or device, this includes Smart TV's and Games Consoles! You can now bypass the need to log in or even create a VPN connection. In order to connect to the VPNUK Smart DNS service you only have to to make one small edit to the connection settings of the system or device you would like to connect.
What are the benefits of the VPNUK Smart DNS service
Using VPNUK Smart DNS and its ever expanding whitelist of available services is a brilliant way of maintaining a low ping time and high speed in countries that have poor routing, throttle or even filter VPN connections. If you do not require the additional security of a VPN connection you are now able to connect to your VPNUK account through the VPNUK Smart DNS service. Another massive benefit with our Smart DNS service is that you can access content from multiple countries without having to switch server IP, the Smart DNS service does all of that for you in the background without you even realising!
Limitations of VPNUK Smart DNS
Unfortunately due to the limitations of the DNS service it is not possible to use services that require traffic to be run through a TCP/IP protocol, services which require that kind of configuration are VoIP services like Skype, P2P applications like UTorrent, for these types of service you will still need to use a VPN connection. The only other limitation is with the actual device you are using the SmartDNS service on, you will only be able to view the content that any particular device has compatibility with. For example, Apple's iPad and iPhone although very popular are not that good in reality. No io/s device has any kind of Flash Player compatibility so it is very restricted on what can and cannot be viewed. The same goes for devices like AppleTV, Boxee, Smart TV's and Games Consoles, some are very limited. In order to take full advantage of the SmartDNS service and enjoy all of the streaming media on offer its best to run the service from a PC, Mac, Linux with Adobe Flash Player and Microsoft Silverlight compatibility.
Setting up a VPNUK SMART DNS connection.
Setting up the VPNUK Smart DNS service is simple, quick and very easy to customise to your specific requirements. In order to get started you first have to register your current IP with our system in order to gain access to the DNS service, if your ISP assign you with a dynamic IP or if it ever changes you will have to re-register the IP! Registering your IP is a quick and automated process that takes just a few seconds to do from the Client CP.
1. Login to the Client CP and go to VPNUK Smart DNS from the right hand menu.
2. Register your current IP address in the permitted connection whitelist.
3. Go to the custom DNS server setting for your internet connection and enter the IP of the VPNUK Smart DNS server that you'd like to use.
4. Save the settings. (Restart your internet connection).
5. Thats It! You should now be connected to the VPNUK Smart DNS service.
More Setup Tutorials
Smart DNS Overview
Windows XP Setup
Windows Vista Setup
Windows 7 Setup
Windows 8 Setup
Windows 10 Setup
Mac OSX Setup
Linux Setup
Apple iPad Setup
Apple iPhone / iPod Touch Setup
Android Setup
Amazon Fire Devices Setup
Router Setup
Boxee Setup
Wii Setup
PS3 Setup
Smart TV Setup
Western Digital WDTV Setup
Raspberry Pi Setup
Apple TV Setup
Amazon Fire TV Setup
Backberry Playbook Setup
Blackberry Z10 & Q10 Setup
Chrome OS and Chromebook Setup
Selection of available services and broadcasters
Click here to see the wide selection of the services available from the VPNUK Smart DNS service.
Smart DNS FAQ
Q. SmartDNS has stopped working for me today?
A. Login to the Client CP and check your registered IP has not changed. If it has changed you can remove it and enable your new IP.
Q. There is a site that I would like to access but its not working?
A. You can request the addition of new services in the Client CP upon request we will take a look and see if its possible to add the service to the whitelist.
Q. I have removed your SmartDNS settings or they are not enabled but I keep getting your Listener page?
A. You have cache'ing turned on or your settings or your browser settings are storing cache'd pages. We need to turn that off in the browser and clear your cache.
Safari Browser
Go to Safari > Preferences > Check – Show developer options > From menu in Safari Browser click onto 'Developer' and then click clear caches and disable caches.
Internet Explorer
Go to Control Panel > Internet Options > Settings > Everytime I vist the page
Firefox
Go to Tools > Options > Advanced > Cached web content >Clear now – then you can check override and limit it to 1mb
Chrome
Open Chrome and enter the following address: chrome://settings > Privacy > Clear browsing data – Make sure cached images and files is checked then click clear
Click here to view all the FAQ's.