Setting up WireGuard® access on Windows, Mac OS X, Linux, Android & iOS
This tutorial will guide you though the simple setup procedure for Windows, Mac OS X, Linux, Android, and iOS operating systems and devices using the official WireGuard® application available from
wireguard.com
. The setup of WireGuard® is very easy, we have added a completely pre-configured setup file to your members area, you can also download the configuration files directly from this setup tutorial. You can either install the WireGuard® configuration from our pre-configured file, or on mobile devices you can install from a pre-configured QR code. "WireGuard" and the "WireGuard" logo are registered trademarks of Jason A. Donenfeld. WireGuard® is available and should always be updated from the developers website at
wireguard.com
WireGuard® configuration download
Please login using the VPN login username and password from the account you would like to configure.
Click Here to download your WireGuard® configuration file, which is compatible with all devices.
Click Here to download your WireGuard® QR code which you can scan on mobile devices.
NOTE: WireGuard® is only compatible with our Dedicated IP accounts.
WireGuard® is an extremely simple yet fast and modern VPN that utilizes
state-of-the-art cryptography
. It aims to be
faster
,
simpler
, leaner, and more useful than IPsec, while avoiding the massive headache. It intends to be considerably more performant than OpenVPN. WireGuard is designed as a general purpose VPN for running on embedded interfaces and super computers alike, fit for many different circumstances. Initially released for the Linux kernel, it is now cross-platform (Windows, macOS, BSD, iOS, Android) and widely deployable. It is currently under heavy development, but already it might be regarded as the most secure, easiest to use, and simplest VPN solution in the industry.
Installing WireGuard®
WireGuard® is compatible with all of the most popular operating systems as well as many more systems and some routers like OpenWRT. You can view the full list of compatibility and download WireGuard® directly from the wireGuard® website here:
wireguard.com/install/
1. Install WireGuard®
Due to the ongoing development of WireGuard® you should always install and update the application directly from the official development website here: https://www.wireguard.com/install/.

2. Choose VPNUK Account Profile
Login to your members area and navigate to the 'VPNUK Account Details' menu option and select the subscription ID of the account you would like to configure for WireGuard®.
3. Download Configuration
Navigate to the account you would like to configure for WireGuard® and scroll down to the bottom of the account details, you will then be faced with a QR code or a manual config file.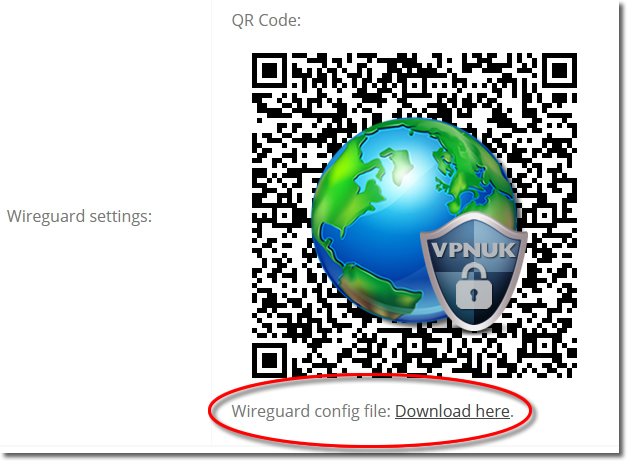 4. Import Configuration
Open your WireGuard® application and create a new tunnel. You can now import your configuration file or import the configuration from the QR code using your mobile device camera.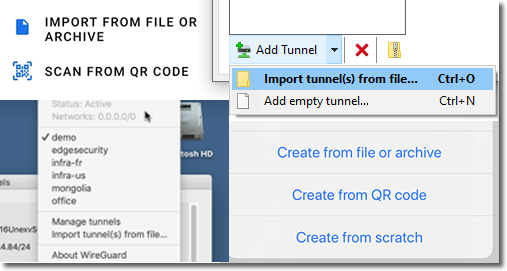 5. Connect
Thats it! You can now connect to your VPNUK account through WireGuard®.